Best Travel Insurance Companies in the US 2023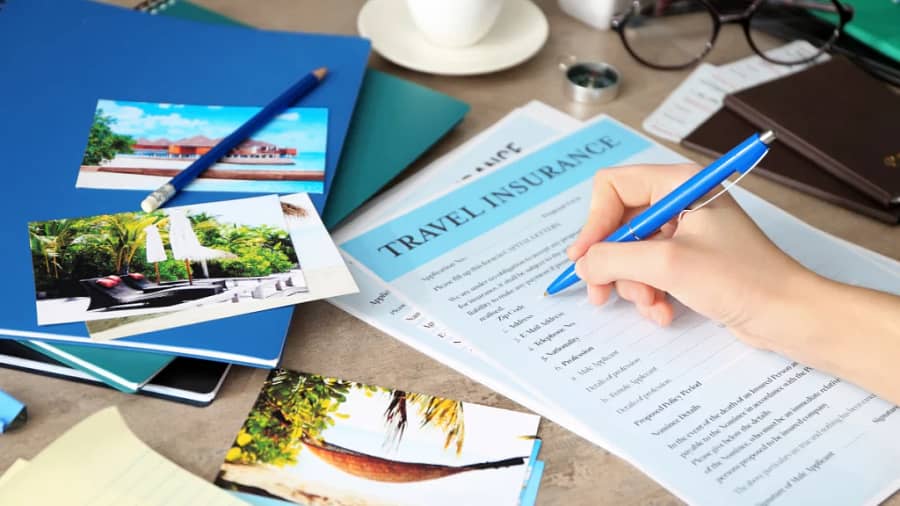 Best Travel Insurance Companies in the US 2023
In the middle of the pandemic, flight cancellations, and flight delays, adding travel insurance to your trip plans is one of the crucial aspects of planning a vacation. When planning a long-awaited trip, never skip the routine of buying travel insurance, as it will save money, time, and frustrations if things do not go as planned.
Buying a travel insurance plan is a challenging task as several insurance companies are selling numerous plans. So, here are the top 8 insurance companies in the US that sell robust travel insurance plans.
IMG (International Medical Group) Insurance – One of the best Insurance companies in the US
IMG (International Medical Group) offers numerous plans to shield visitors to the US and worldwide. Whether traveling for business or pleasure, in the event of sickness or injury, these plans can provide the coverage you need. IMG travel insurance plans are ideal as visitor insurance for travelers, business individuals, students, scholars, overseas families, ex-pats, marine captains, and adventure seekers.
Travel is both exciting and rewarding. But if the unexpected happens, like getting hurt or falling ill, medical bills can be overwhelming. Healthcare in the US is complicated and expensive, and your domestic provider (plans from your home country) may be unable to cover your expenses.
IMG visitor medical insurance policies pay for countless benefits, including hospitalization, doctor visits, prescription drugs, and even the acute onset of non-chronic pre-existing conditions. So, give yourself and your loved one peace of mind by purchasing travel medical insurance.
Pros:
It offers global support. With offices and partners across the globe, IMG provides support whenever needed. It is their mission to protect and enhance your health and well-being.
IMG has recognized underwriters, A-rated Sirius International Insurance Corporation, and certain underwriters at Lloyd's.
It has accessible technology. One can log into a 24-hour online portal to submit and view claims, search for providers, chat with representatives, and more.
IMG has a network of more than 17,000 accomplished physicians and facilities, allowing members to access quality care worldwide.
It offers family-friendly plans for domestic trips in the US and international destinations.
Some plans offer trip cancellation and trip interruption benefit up to 100% and 150% of the trip cost, respectively.
Up to $1,000,000 benefit for emergency medical evacuation and repatriation of remains.
Optional Cancel for Any Reason (CFAR) / Interruption for Any Reason (IFAR) add-on benefit available on trip cancellation plans.
Plans provide coverage for trip cancellation, travel delay, trip interruption, baggage, and personal effects, emergency medical evacuation, and accident and sickness medical expenses.
Cons:
Coverage excludes pre-existing conditions.
Narrow choice of policy maximum on plans for senior travelers.
Trawick International – The most popular Insurance company in the US
Trawick International is a worldwide insurance provider specializing in international travel medical and student health insurance. They provide medical coverage, evacuation, repatriation, emergency reunion, security/political evacuation, and much more for anyone traveling outside their home country.
Founded in 1998, the company offers several insurance plans like trip cancellation, single trip, annual trip, medical evacuation & repatriation, adventure, or sports coverage, student travel insurance, group insurance, missionary and expatriate insurance, COVID-19 insurance, cruise ship insurance, and more.
Pros:
Members can select their desired plan and get a confirmation email with the details and paperwork.
Trawick International has licensed travel insurance agents who can assist in comparing plans, reading the brochure, and explaining the exclusions.
Trawick International has approved and competitive providers who are researched and carefully selected.
The company offers a comprehensive, competitive service with a strong network of leading insurance and financial partners.
Trawick International offers an extensive worldwide network of quality physicians, hospitals, and pharmacies in the US.
It offers to Cancel for Any Reason (CFAR) upgrades in trip cancellation plans.
It offers plans for US citizens and residents traveling to other countries or domestically.
It has plans designed for crews, missionaries, expatriates, cruise travelers, students, and more.
Adventure/sports trip insurance plans are available as add-ons.
Cons:
Medical expenses coverage is low for certain ages though it may be sufficient for some travelers.
Travel delay and baggage delay coverage need at least a 12-hour delay. You cannot claim anything if the delay is for 8 hours.
WorldTrips – Travel Insurance plans
WorldTrips has been helping international travelers roam confidently with its customizable and budget-friendly travel medical insurance plans. The plans are designed to meet the needs of individuals and groups traveling for leisure, business, mission work, study abroad, and more. Established in 1998, the company offers travel medical insurance, group travel medical insurance, annual medical insurance, trip protection insurance, trip cancellation, international student health insurance, global ex-pat medical insurance, and more.
WorldTrips is a member of the Tokio Marine HCC group of companies. Tokyo Marine HCC is a member of the Tokio Marine Group, having financial strength ratings of "A+ (Strong)" from S&P Global Ratings, "A++ (Superior)" from A.M. Best, and "AA- (Very Strong)" from Fitch Ratings.
Pros:
WorldTrips' travel medical and trip protection insurance products are known and used daily by thousands of individuals.
The insurance plans are all designed with the unique needs of the international market in mind.
The company aims to make unexpected travel mishaps and emergencies less stressful for travelers.
The company has multilingual customer service representatives to assist members with travel and insurance needs.
Offers " Cancel for any reason", " Interruption for any reason," destination weddings, pets, security/terrorism, adventure sports, and vacation rentals upgrade.
It offers Schengen visa insurance that meets current Schengen visa requirements for travelers.
The group travel medical insurance provides reduced rates for families and groups of 5+ traveling abroad.
The trip cancellation and interruption insurance reimburse US residents for covered cancellations, interruptions, delays, and more in the US and abroad.
Trip Interruption benefit can provide up to $1,500 of compensation if your trip is interrupted for a covered reason.
In trip cancellation benefits, expenses are paid up to 100% of your insured trip cost and up to the benefit maximum for your plan.
Travel medical insurance offers up to $25,000 for accidental death and dismemberment.
Travel medical insurance plans offer up to $2,000,000 of overall maximum coverage and up to $1,000,000 for emergency medical evacuation.
Cons:
Acute onset of pre-existing conditions excludes chronic and congenital conditions.
Baggage delay benefits can be enjoyed after 12 hours.
USI Affinity Travel Insurance
USI Affinity Travel Insurance Services has been operating since 1973 and offers distinct categories of plans like business trips, student health insurance, leisure holidays, and moving abroad. The company helps you find the right coverage for visiting the US, outside the US, frequent travel, and more.
USI Affinity Travel's plans include access to their 24/7 travel assistance hotline. In addition, the company provides emergency assistance for travelers inside and outside the US. Lost passports, weather concerns, and finding a physician are some available aids. It has different claim forms depending on the type of claim. Make sure you look at what supporting documentation you need for a complete claim.
Pros:
USI offers medical travel insurance, trip cancellation, emergency medical evacuation, and coverage for baggage loss.
USI offers a "Cancel for any reason" upgrade.
The company offers insurance coverage for road trips, cruises and tours, customized group plans, and more.
Members can find plans offering travel delay coverage, superior baggage loss coverage, hurricane and weather coverage, and rental coverage.
It offers road trip insurance plans that can cover a pet or service animal traveling requiring emergency medical care during a trip.
USI has insurance products like cruise insurance, custom group insurance, medical evacuation insurance, annual travel insurance, and more.
Quality international medical insurance and medical evacuation insurance can start from $1.35 per day based on the chosen plan.
Annual travel medical insurance plans protect travelers for multiple trips for 12 months.
Cons:
Pricing is on the high side compared to other top plans.
Baggage delay coverage requires a 12-hour delay before the benefits start.
GeoBlue Insurance
GeoBlue has been operating for the last two decades, helping international travelers travel with confidence and peace of mind. It offers long-term coverage for individuals living abroad, short-term travel coverage plans for single and multi-trips, and specialist solutions for missionaries, yacht crew, faculty, and students. It also offers comprehensive international medical coverage ideal for long-term assignees and their dependents and short-term international business travelers.
GeoBlue is an independent licensee of the Blue Cross Blue Shield Association. It has an elite network of doctors from every specialty ready to see you in over 180 countries. With GeoBlue, members have a worldwide, all-access pass to a whole level of care through mobile tools.
Pros:
GeoBlue has an elite network of doctors and specialists ready to see you on short notice.
Some plans offer coverage for non-emergency medical expenses, such as office visits and physical therapy.
In the US, more than 80% of physicians and 90% of hospitals contract directly with Blue Cross and Blue Shield Plans.
Some plans offer $25,000 in coverage for scuba diving and downhill skiing injuries.
The Voyager plans for single trip offer post-departure trip interruption transportation benefits of up to $1,000.
Quarantine benefits up to $25 to $50 per day for 10 days on the Voyager plans.
Multi-trip medical insurance plans offer unlimited trips outside the US in 12 months (70 days max. per trip).
It has plans for the crew, missionaries, expatriates, groups, etc.
Annual plan for individuals and their families who intend to be outside their home country for at least three months each year.
Cons:
The premium for these plans is higher as compared to the other travel insurance plans.
Baggage and personal items coverage is low.
Travelex Insurance
Travelex Insurance is an insurance provider in the US, serving the insurance industry for the last 25 years. It has helped people dream, explore various places, and confidently travel. It was founded in 1996 and had its headquarters in Omaha, NE. In 2016, Travelex became a part of the Cover-More Group, a Zurich Insurance Group-owned subsidiary.
The company continues to expand in innovation by making its products and services available to travelers worldwide. Its mission is to be globally recognized by providing travelers with the best travel protection and making travel more accessible and safer.
Pros:
With a Travelex insurance policy, you are covered in different situations that may cause you to cancel your trip or cut it short.
Members can get medical expenses coverage up to $50,000 and medical evacuation coverage up to $500,000.
Members can receive financial and medical protection for activities such as heliskiing, mountain climbing, professional sports, or operating an aircraft.
Members can receive protection for covered accidents during flights with the AD&D Common Carrier upgrade.
Some plans can cover up to $35,000 for collision, vandalism, windstorm, hail, fire, or flood damage to car rentals.
Additional medical coverage, adventure sports coverage, AD&D common carrier (Air only), Cancel for Any Reason, and car rental collision upgrade available.
Members receive reimbursement for 100% of the insured trip cost up to a maximum of $10,000 or $50,000, depending on the plan.
The plans cover missed connections, cancellation, and interruption, baggage & personal effects, medical & dental, evacuation, and repatriation.
$15,000 to $50,000 emergency medical and dental coverage available.
Travelex offers plans for solo travelers, families, senior travelers, students, and volunteers.
Cons:
Baggage delay benefits apply after a 12-hour wait.
"Cancel for any reason" coverage provides 50% reimbursement of the non-refundable deposits. Its competitors offer 75% reimbursement.
Peterson Underwriters
Petersen Underwriters offer insurance coverage for disability, life, medical and contingency risks. The company is recognized internationally and nationally for its underwriting expertise, innovation, and leadership in the insurance domain for at least 40 years. Petersen Underwriters is licensed in all 50 states, Washington, DC, and Canada. However, only some products are available in all states or countries.
Pros:
Petersen has disability plans for individuals, entrepreneurs, and athletes.
The company offers coverage for high-limit accidents, kidnap, and ransoms.
It offers an accelerated benefit plan that can provide coverage up to the age of 65, 67, or 70.
The Bridge Plan simulates Medicare protection platforms Part A and Part B and offers up to a $1 million max benefit.
Petersen Underwriters has kidnap and ransom insurance to reimburse the policy owner for the expenses incurred in the event of a kidnapping.
The High Limit Accident Plan will cover from $100,000 to $100 million in the case of accidental death or dismemberment.
The Accident Only Major Medical Plan will reimburse 100% of eligible expenses up to $1,000,000 or the policy maximum.
International Major Medical Insurance Plan can provide medical coverage for up to one year with benefits up to $1 million.
Cons:
Limited travel medical plans for travelers and visitors without pre-existing conditions coverage.
No student health insurance plans are offered.
Global Underwriters
Global Underwriters provides elite service with remarkable accident and medical coverage and special risk insurance solutions to individuals and groups. The company has more than 60 years of experience and expertise in the insurance industry. So, if you travel on business, vacationing, or residing in a foreign country, Global Underwriters has a perfect plan. It also covers non-government and non-profit organizations, faith-based organizations, the entertainment and production industry, education institutions, government contractors, and other industries.
Pros:
Global Underwriters' products include global health, dental, vision, life, accidental death and dismemberment, and emergency medical evacuation & repatriation coverage.
The plans are ideal for companies & organizations, multinational faith-based organizations (church & missionary), educational institutions, Non-Profit organizations (NPOs), Non-Government (NGOs) organizations, US government contractors, and more.
Some plans are designed for global ex-pats, kidnap, ransom & extortion, defense base act insurance, group special risk accident, etc.
Global Underwriter plans have optional coverage for Athletic Sports & Hazardous.
Activity Rider, home country coverage rider, and War risk coverage.
Cons:
Global Accident Protection Plan (GAPP) provides Accidental Death & Dismemberment (AD&D) benefits and optional Emergency Medical Evacuation/Repatriation but does not offer medical coverage.
There are no student health insurance coverage plans.
Not all plans offer COVID-19 coverage.
Buying insurance plans can be risky, especially if you do not have any knowledge about the industry. So, here are the top 8 best travel insurance companies in the US. Choose a suitable insurance provider and enjoy a safe trip.
---
---