Visitor Insurance for travelers on Vande Bharat flights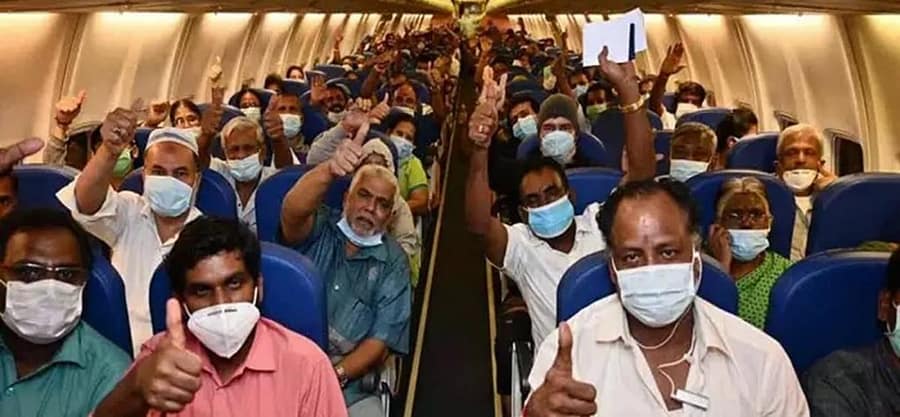 When the COVID-19 pandemic began peaking in the months of March and April, millions of travelers worldwide were suddenly stranded away from home. As the number of available flights rapidly dwindled, travelers scrambled to book evacuation flights offered by their homelands or were forced to self-isolate abroad.
India was among the nations that led a massive effort to repatriate their stranded citizens – a mission they dubbed Vande Bharat. From May 1st to August 31st, hundreds of thousands of Indian citizens were brought home via air and land travel.
Vande Bharat was able to reunite Indian nationals, refugees and visitors with their loved ones. The mission also has proved to have some major implications for visitor insurance.
A Summary of the Vande Bharat Mission
On May 7th, 2020, the Indian government launched the "Vande Bharat Mission", an evacuation program to bring citizens who were threatened abroad by COVID-19 back to the country. The evacuation program would be carried out through flights organized by Air India and its low-cost arm, Air India Express. The program was slated to have five phases, the fifth of which would end on August 31st.
Key Stats
By May 8th (1 day after the program was launched), 67,000 evacuation requests were already made
By May 28th, the number of evacuation request had reached 300,000
By August 9th, almost 950,000 Indians had been repatriated
Phases of Vande Bharat Repatriation
Phase 1 – From May 7th-17th, evacuations from Abu Dhabi and Dubai, UAE and Singapore were carried out via air travel. Many of these passengers included pregnant women, elderly adults and infants/very young children.
Phase 2 – From May 17th – June 10th, a series of evacuations conducted to bring 30,000 Indian nationals home took place. These repatriations took place over land.
Phase 3 – Starting on June 11th, scheduled 300 flights from 50 countries were carried out to bring Indian citizens abroad back home. This was the first phase to include private airlines.
Phase 4 – Beginning on July 3rd, the fourth phase focused on repatriating citizens from the Gulf countries as well as those in Eastern Asia (Singapore, Thailand and Malaysia). 1050 flights were scheduled, with 750 flights of those flights being operated by private airlines. Additional evacuations would be carried out from Europe and the United States.
Phase 5 – From August 1st – August 31st, phase five entailed evacuations with over 700 flights to 53 countries planned including the U.S., France, Germany, the U.K. and UAE.
Visitor Insurance for Stranded Travelers
For passengers who have been stranded and awaiting repatriation flights, travel insurance plans such as those offered by Visitor Guard® have been able to assist them. Many of our visitor medical insurance plans offer coverage for Covid-19. These visitors insurance plans can provide coverage for travelers who may need medical testing as advised by the physician, treatment, ambulance rides or hospital stays. This travel insurance for parents can cover acute onset of pre-existing conditions that have the potential to flare up abroad (which would require costly medical treatment).
These visitor medical insurance plans can provide passengers who are awaiting "extraction" a safety net, so-to-speak, so that they are not completely paying out of their pockets.
While you're at it, familiarize yourself with other restrictions regarding attendance at public venues, events, the use of public transit, and other infrastructure. Doing so will help you pack the right items in your luggage and save you hassles abroad.
A Ray of Hope in a Time of Fear
COVID-19 has put a severe strain on the global population, and travellers have felt a lot of the burden. Many of them have been stranded with little means to get home or even remain safely abroad.
However, missions such as the Vande Bharat have offered these people a way to get home. In conjunction with visitor health insurance, these stranded travelers have been able to "weather the storm" of COVID-19.
They don't have to pay for flights home or potential medical treatment on their own. This provision has done wonders during a time this time where a safe return home is not even guaranteed.
Are you concerned about your safety while travelling during the COVID-19 pandemic? Get in touch with us to learn more about our comprehensive travel insurance plans.
---
---