Study Abroad in India: Information, Benefits and How to Do It
India is a fascinating, varied and growing country – both in terms of population and economy. It's hardly surprising that more and more US students and citizens are choosing to study abroad in India. If you choose to pursue your studies in India you'll discover many things, from tranquil beaches to bustling bazars, frantic cities to relaxing temples. You'll also experience any of the 22 official languages spoken in India and be able to further your education in a variety of different fields, at top-class universities. India's cultural and ethnic diversity makes it an interesting place to live, and you can experience some of the beauty of the country on your time off from study. If you want to study in India, do you need a visa? Are there any problems for US students who want to go to an Indian university – particularly in the light of recent reports that Al Qaeda is enhancing its presence in the country?
Opportunities for Study in India
Hundreds of universities around the country offer a variety of undergraduate, graduate, and further education programs in thousands of different disciplines and designs. If you are currently studying in the US, ask at the international office for details of the different exchange programs that are offered to current students and how you can transfer credits from a program in India to a US degree.
Where to Study in India
Mumbai is a bustling metropolis that is home to the HQs of multinational and Indian companies, financial institutions, and global organizations. If you want to study engineering, business, or technology then Mumbai is a great destination. Delhi is a cosmopolitan city that has a number of medical colleges, universities, and engineering colleges. Many of these institutions are prestigious and globally renowned. Manipal is located on the southern coast of India and has universities and professional colleges, while Bangalore has a booming software, biotechnology, and IT sector with corresponding expertise at the local colleges. The US Department of State has not issued any warnings or advice against studying in India following the news that Al Qaeda is setting up a new cell, so you should feel free to make a choice about where to study based on your personal and professional preferences.
How to Apply for a Study Abroad Student Visa
Any US citizen visiting India needs a visa before entry. You can apply for a Student Visa for India online but then you will need to submit all relevant documentation at your interview, which will take place at the Indian Embassy or Consulate near to you. Take a look at the information about Visa services from the Embassy of India in Washington DC, for example.
You can also find out a lot about India and information concerning crime and security, travel, health and medical services, and any issues surrounding living as a foreigner in the country by looking online.
Provided you are already accepted by an Indian educational establishment for your period of study, and the institution is accredited and professional, you should not have too many problems being accepted for the visa. Commentators have mentioned that the Indian government may be scrutinizing applications more closely following Al Qaeda's move and the possible escalation of terrorism – but currently there have been no reports that it is more difficult to get a visa to study, providing you meet the general requirements.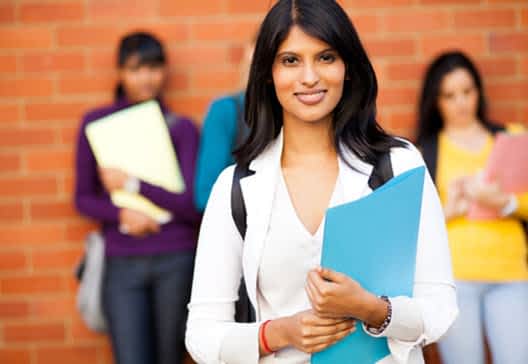 You will need a letter from the institution detailing the course you will be taking and information on the costs you will be paying – you should have evidence that you can meet these financial demands, as well as evidence of a return or onward ticket However, make sure you leave plenty of time before travel to sort out the visa and deal with any potential complications. Make copies of any documents that you send through the mail.
Possible Complications for Study Abroad Students – Is Terrorism an Issue?
While the impact of Al Qaeda's presence in India is yet to be felt, commentators believe that it will not make too much of a difference to people traveling to the country and studying there. However, there have been numerous terrorist attacks in India, some of which have targeted westerners, so it is always advisable to keep a close eye on your surroundings and to monitor news reports for signs of potential trouble.
Your experience of studying abroad in India is likely to be positive although you will encounter challenges at some point – it can be difficult to live in a different country and you need to get used to the customs and the way of life. You may suffer from culture shock or loneliness. In order to make the most of your time abroad, get involved with activities, and expand your social life so you meet new people and try new things.
You will certainly need to get comprehensive medical insurance for the time you spend in India. It is unlikely that your US insurance will cover a period of time spent in a foreign country. Your health insurance abroad should cover medical treatment, doctor's office visits, dental treatment, and emergency medical evacuation should you need to be transferred home to the US for treatment. You may also want to consider adding cover for personal possessions and trip cancellation insurance.
---
---