12 Best Places to Visit this Holiday Season 2019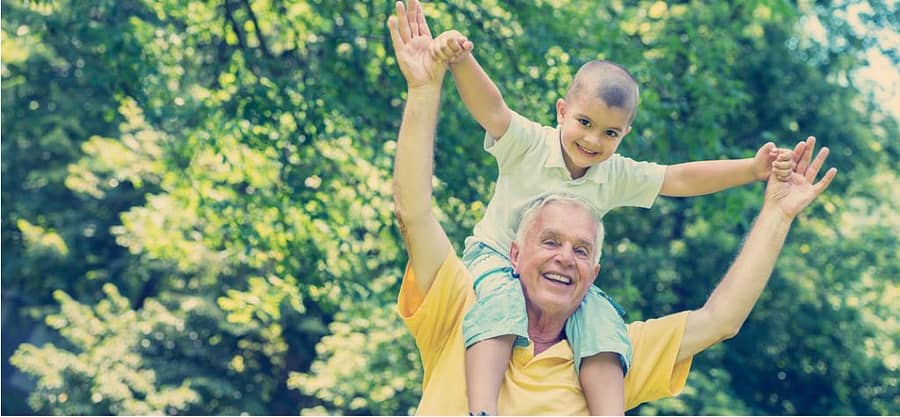 If you're a college student studying in the states, you're lucky enough to have a whole month off for the holidays. And what better time to invite your friends and family from abroad to celebrate with you in the states? Whether you're showing them some holiday spirit around your college town or you're looking to explore a different city for some jolly fun, you'll find plenty of wonderful places to experience your first holidays in the U.S.
Before you find yourselves dashing through the snow though, be sure you and your foreign guests are covered with visitor health insurance for traveling. Most plans cover visitors anywhere from five to 364 days. After all, you won't want any little accident or illness to keep you from your holiday cheer.
Once everyone in your party is covered, spend your first winter in one of these U.S. cities and get ready to experience the holiday magic.
1. Los Angeles, California
It would have to be an absolute Christmas miracle for you to see snow in this part of the country, but that doesn't prevent Los Angeles from getting into the spirit of things. If you have family visiting for the first time, a trip to the LA Zoo Lights belongs on your to-do list. Not far from your university, you'll find an illuminated winter wonderland at the zoo, featuring the world's largest light-up storybook along with a disco ball forest. While you're here, don't miss Reindeer Village. This festive attraction invites you and your family to get up close and personal with real reindeer at the Reindeer Romp.
2. Washington, D.C.
If this is your first holiday season in the U.S., invite your family to experience the magic in the nation's capital. Just minutes from Georgetown University, you'll find the Georgetown GLOW. Each evening, you can take a walking tour through the public art light installations in D.C.'s oldest neighborhood. This is a wonderful way for your friends and family from abroad to get a sense of this area's charm. Then mark your calendars for December 7 when the District's Holiday Boat Parade cruises pass the Wharf. Stay toasty next to the Camp Wharf fire pit as boats decked out in lights and ornaments float by. You can even ice skate during the parade but be sure you have visitor's insurance in case of any slips or falls.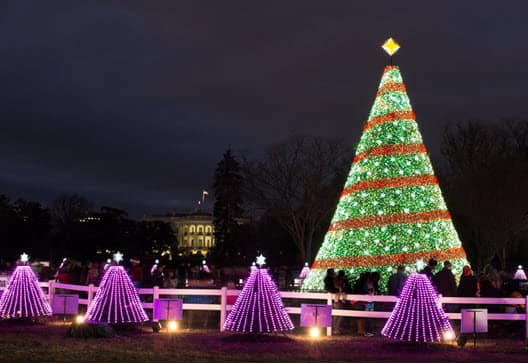 3. Grapevine, Texas
When it comes to celebrating your very first holiday season in the U.S., what better place to visit than the Christmas Capital of Texas®? Grapevine really knows how to put on a show as it hosts 1,400 events across 40 days each holiday season. Your friends and family from overseas will find the festivities absolutely enchanting, from the ice sculptures at ICE! at Gaylord Texan to the Grapevine Vintage Railroad's North Pole Express®. Settle in for a classic holiday film at the Historic Palace Theatre, cheer on the Parade of Lights, and shop for last-minute gifts, while surrounded by millions of twinkling lights.
4. Callaway Gardens, Georgia
The weather may not get frightful in Callaway Gardens, but the holidays are certainly delightful. You won't even think about the lack of snowfall when you and your visiting family set your sights on the Fantasy in Lights at Callaway Resorts and Gardens. National Geographic ranked it as one of the best light displays in the world, so you know you can expect nothing short of a spectacular show. Sip on some cocoa as you drive or ride the trolley through more than 8 million lights across 2,500 acres. If you have little ones joining you, don't miss the How the Grinch Stole Christmas Dinner Show and the Christmas Character Breakfast, too.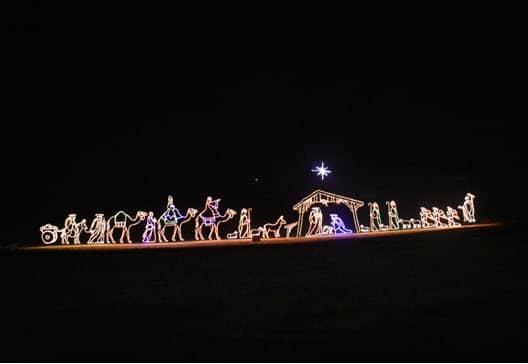 5. Ogden, Utah
If you require chilly temperatures to get into the holiday mood, then Ogden is the place to celebrate your first holiday season in the U.S. Tell your friends and family to pack their scarves and mittens when they visit you in this lovely winter wonderland in Utah. Begin the festivities early when you cheer on the Electric Light Parade on November 30, which marks the opening ceremony of the Christmas Village. Floats, performers, and fireworks? Hello, holidays! The city's Christmas Village brings out all the holiday cheer with Santa's Castle, rides aboard the Polar Express Train, and plenty of hot cocoa to keep you warm.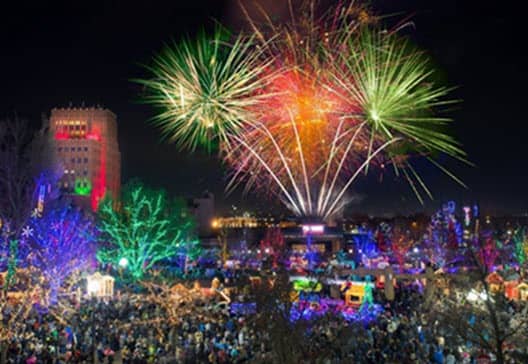 6. Leavenworth, Washington
Leavenworth is merry and bright come the holiday season. However, this Bavarian Village may have you feeling like you're visiting a European town rather than an American destination. Regardless, you and your family from abroad are in for a captivating experience when you enter the Village of Lights, decked out in more than 500,000 lights with a backdrop of the Cascade Mountains. The village hosts a number of festivities, including the Christkindlemarkt, which is their annual Bavarian Christmas market, concerts, and Santa visits. You'll find ice sculptures, carolers, and even sledding areas to ensure this is one magical holiday you won't soon forget.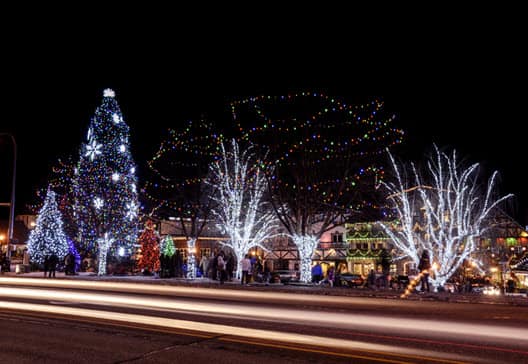 7. Aspen, Colorado
For a quintessentially American holiday experience, bundle up and bring your family to the snowy mountain town of Aspen. If you want snow in your forecast, there's a good chance you'll see some fresh powder on the slopes. Spend the day carving the ski trails and ice skating at the rink (make sure you have the best visitor's insurance for visiting the USA!) and then take in all the holiday merriment. Check out all the activities during the 12 Days of Aspen, such as the Victorian carolers, crafts, and performances. There's even a seven-foot-tall gingerbread house! If your family is still in town come January, attend the Nordic-inspired Winterskol festival, complete with ice sculptures and a canine show.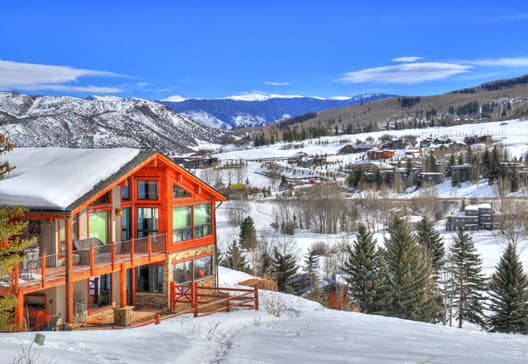 8. Key West, Florida
Sure, Key West makes for an unconventional holiday destination, but we don't think your family will complain when they're soaking up the sun in 70-degree F weather in December. Come deck the halls in this Florida retreat, where you can marvel at decorated boats as they cruise around the Key West Bight during the Lighted Boat Parade. After enjoying the nightly Sunset Celebration at Mallory Square, climb aboard the Lights & Sights Tour for a front-row seat for one of the most spectacular light displays in town. For even more holiday cheer, take a ride on the Conch Tour Train Holiday Lights Tour, too.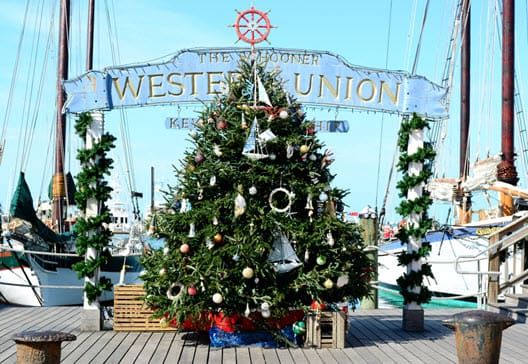 9. Christmas Town, North Carolina
This town may be called McAdenville for 11 months out of the year, but come December, it changes its name to Christmas Town. If that's not enough incentive to invite your family to the states for the holidays, we don't know what is! This town knows how to make spirits bright, as they decorate 250 evergreens in lights, along with 160 homes, making everything shine and sparkle. Experience the Tree Lighting Ceremony, Yule Log Parade, and Christmas Town Festival, among other spirited events and attractions.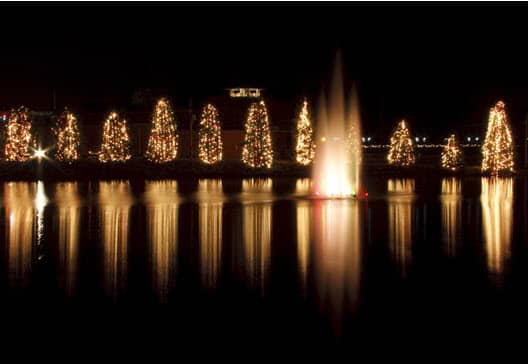 10. North Pole, Alaska
Ok, it's not that North Pole, but it's pretty darn close! This holly jolly town celebrates the magic of Christmas all year-long at the Santa Claus House. If you have friends or family visiting with children in town, this is the place to go to celebrate the holiday season. Visit Santa himself and check out the Christmas in Art ice sculpture contest, which showcases ice carvings made from 600 tons of ice. You can even special order a letter that Santa will send straight to the kids. Let it snow!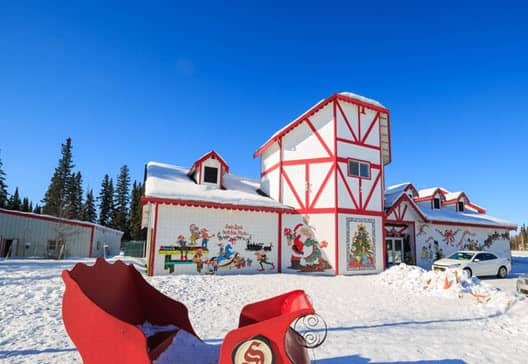 11. Hershey, Pennsylvania
Listen for sleigh bells ringing when you and your family spend your first holiday season in the city of Hershey. Climb aboard the Sweet Lights Trolley and cruise along the Hershey Sweet Lights® trail through a wooded wonderland. You'll definitely want to make a visit to Hersheypark® as well. This amusement park is a sweet treat any time of year, but come the holiday season, it twinkles and dazzles even more than usual as 4 million lights decorate Hersheypark® Christmas Candylane®. If you're lucky, you just may run into Santa and his nine live reindeer.
12. Las Vegas, Nevada
All is calm, all is bright—actually, it may not be all that calm, but it sure is bright during Christmastime in Vegas. If your family is visiting from out of the country, Vegas promises an enchanting time any time of year, but especially during the holidays. The city probably won't get any real snowfall, but that doesn't stop Vegas from making its own snow! With your short insurance for foreign visitors handy, go snow tubing at the Winter Parq and ice skate at the Cosmopolitan's outdoor rink. Be sure to take photos in front of the 65-foot Christmas tree at Doge's Palace Plaza and you'll be dreaming of a white Christmas in no time.
Perhaps one of the most magical parts of spending the holidays in the states is that there are so many ways to celebrate, whether you're trekking through snow in Aspen or basking on the beach in Key West. Regardless of how you and your family spend your first holiday in the U.S., be sure to protect yourselves with visitors' health insurance. One slip on the ice or fall on the slopes could land you in the emergency room. With short term medical insurance for traveling abroad, you can rest assured you'll be taken care of during your holiday travels. When you're looking to purchase visitor insurance, make sure you check for the following:
Claims handled in the U.S.
Accepted by U.S. medical facilities
Meets U.S. government requirements for Visas
Make sure your visitors insurance for your parents checks all the above boxes this holiday season with Visitor Guard.
---
---