Evaluate the Cost of Medical Treatment in the US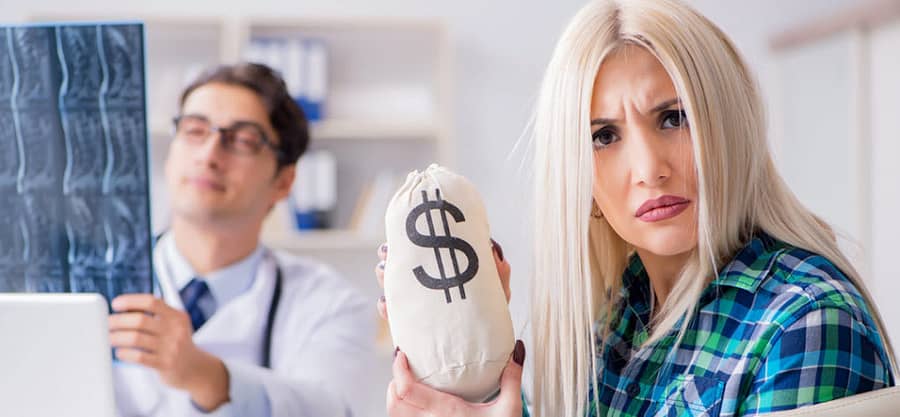 Private Medical Treatment Costs in US
According to Becker's Hospital Review, the average cost per inpatient per day across the US in 2010 was $1,625 in state/local government hospitals, $2,025 in non-profit hospitals, and $1,629 in for-profit hospitals. In 2011 these figures had gone to $1,667, $2,088, and $1,628 respectively. When you are in a hospital, no matter what you are being treated for, you will no doubt need to pay for your room and board, for lab tests, and for x-rays or other scans.
Hospitals are required to post their charges for procedures, room and board, lab costs, x-rays, and surgeries. You can look online at the hospital's website to find out exactly what you will pay if you use their facilities, but we discuss below some details on what each procedure covers and the range of prices you expect.
What is included in hospital room and board charges?
Room and board generally mean the cost of staying in a hospital room including the meals that are provided, the room itself, and the essential supplies. This charge does not usually include fees for drugs or medical devices, procedures that take place during the inpatient stay (for example, surgery, lab work, or x-rays), or non-routine supplies.
How Much Will You Pay For Room & Board?
As with hotels, prices vary depending on the hospital. Cleveland Clinic, for example, has a list of per day charges for room and board which are split into different sections depending on the treatment delivered. Coronary care is $4,479 per day for room and board, while psychiatry is $1,556 per day, and general medical/ surgical is also $1,556.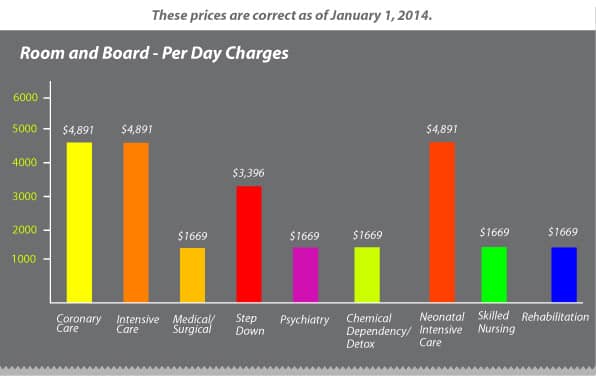 The Ohio State University Wexner Medical Center posted its room and board charges at $1321-$1650 for a semi-private medical-surgical room, $3,269.00 for adult psychiatric, and $1,958.00 for rehabilitation, per day.
Cost of Private Vs Semi Private Hospital Rooms
Rochester General charges $747 per day for a semi private medical-surgical room, while a private room for general surgery or medical procedures costs $786 per day. The cost rises for intensive care rooms – $2,018 per day – but is less for nursery beds and for labor and delivery beds.
As you can see from this information, the charge for room and board varies considerably depending on which hospital you are admitted to. You could pay thousands of dollars for a routine procedure, or you could manage to limit your spending to hundreds of dollars. Without a doubt, you will look at a bill of close to $1,000 at least, whatever the procedure and wherever you get it done.
Rundown of Lab Charges in US Hospitals
The 30 most popular laboratory procedures at Cleveland Clinic include an antibody screen ($105), bacterial urine culture ($96), basic metabolic panel ($130), blood gases ($180), and blood typing ($62). The most expensive lab work is the surgical pathology Level 4 procedure which costs $270. The cheapest procedure is a sodium check at $22.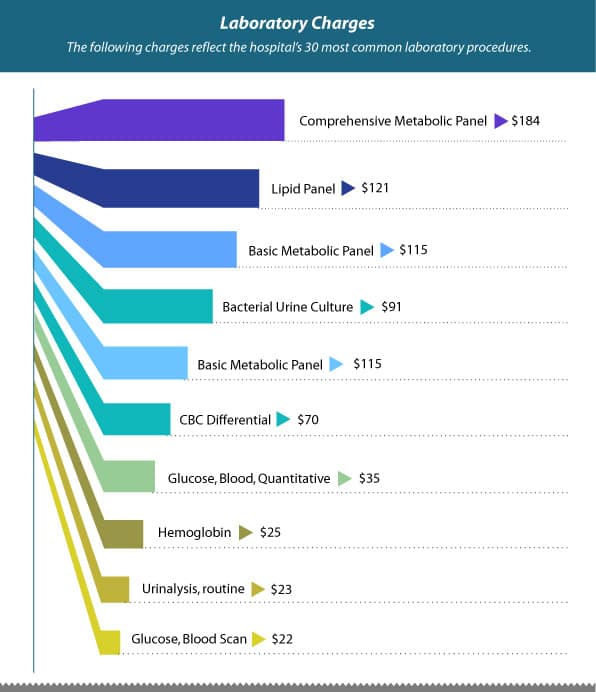 Blood typing at the Ohio State University Wexner Medical Center is $122, blood gases $322, metabolic panel $318, and lipid panel at $235.
At Rochester General hospital you can expect to pay $61 for a comprehensive metabolic panel, $14 for blood culture, and $36 for urine culture.
Again, there is a large variation in costs depending on where you go. These are example charges for the most common lab procedures – more complicated tests and procedures will inevitably cost more.
How Much Does An X-Ray Cost?
X-ray and radiological charges depend on the procedure, and because there are a wide variety of procedures available it is essential to find out before your x-ray what you are going to be charged. For example, the Cleveland Clinic pricing includes a portable chest x-ray at $267, a two-view shoulder x-ray at $273, a breast ultrasound at $404, and a cat scan of the head or brain at $1,321. The Ohio State University Wexner Medical Center charges $353 for a single-view chest x-ray, $347 for a foot x-ray, and $316 for a knee x-ray. Rochester General x-ray charges include a 2-view chest x-ray for $148, a shoulder x-ray for $124, a knee x-ray for $151, and a foot x-ray for $108.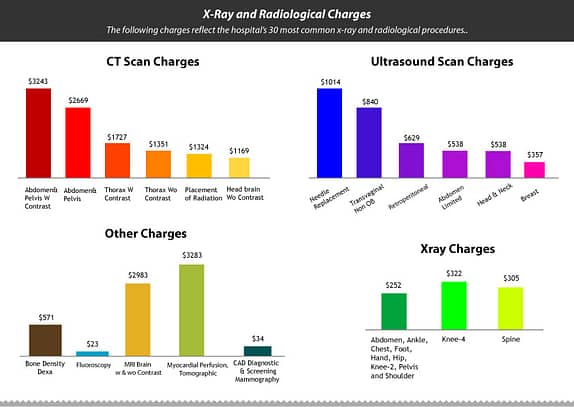 When you have treatment in a US hospital, the facility will normally bill your insurance provider first, and then will send you a bill for the remainder. You will normally receive a breakdown of charges within the bill – if you do not receive this, ask the hospital to send it. There are plans available to pay the bills in installments if you cannot afford to pay the entire amount in full. Of course, the more comprehensive your health insurance plan, the better. When you have good quality health insurance you are less likely to be hit with a high bill following a stay in hospital.
If you are visiting the US, and need medical coverage, Visitor Guard® makes it easy to find a variety of plans that fit your needs, so you can get the best medical visitor insurance in just a few minutes.
---
---