Can a visitor get health insurance in the US? 
When visitors plan a trip to the US, one important consideration often overlooked is health insurance. While the US does not mandate health insurance for tourists, having coverage during your visit can be invaluable in the event of unexpected illnesses or accidents. Visitors can get health insurance catered to their personal and medical needs from insurance providers or agents. There are several policies meant for foreigners, including students, expats, exchange scholars, relatives, leisure, and business travelers coming to the US for a brief stay.
If you are a visitor coming to the US, here are all the details that you must know.
Why do you need health insurance in the US?
Visiting the US without health insurance can be risky for several reasons:
High healthcare costs- Medical expenses here are among the highest in the world. Even a minor injury or illness can lead to substantial bills. Health insurance provides a safety net against these potentially astronomical costs.
Access to quality care- With health insurance, you gain access to a network of healthcare providers, ensuring that you receive quality medical care promptly, without the hassle of finding a suitable healthcare facility in an unfamiliar place.
Comfortable trip- Traveling should be about enjoyment, not worrying about unexpected health issues. Health insurance offers peace of mind, allowing you to focus on your trip rather than medical concerns.
What are the visitor health insurance options?
i. Visitor Health Insurance
Tailored for tourists and visiting family members.
Provides comprehensive medical coverage.
Offers flexibility in choosing coverage limits, deductibles, and policy duration.
May include dental and vision coverage.
May cover the acute onset of pre-existing conditions under certain conditions.
ii. Trip Cancellation Insurance
Protects your trip investment.
Covers trip cancellation due to unexpected events like illness, injury, or natural disasters.
Reimburses non-refundable trip expenses.
Can include trip interruption coverage to get you home if your trip is interrupted.
Typically, trip cancellation insurance or travel insurance is designed for US citizens/residents taking trips inside or outside the US. Visitor insurance policies are meant for foreigners coming to the US for a temporary visit. One must remember that not all visitor insurance policies cover trip cancellation and delay coverage. Some plans may offer limited coverage to trip-related benefits. Therefore, one must review the policy before purchasing.
What factors to consider when choosing visitor health insurance?
Coverage limits: Ensure that the insurance plan provides sufficient coverage for potential medical expenses. Check for maximum limits on hospitalization, surgery, and other medical services.
Deductibles: Understand the deductible you will need to pay before the insurance coverage kicks in. A higher deductible may mean lower premium costs.
Pre-existing conditions: If you have pre-existing medical conditions, inquire about coverage. Visitor insurance plans do not cover pre-existing conditions, but some plans can offer coverage for acute onset of pre-existing conditions.
Network of providers: Check if the insurance plan has a network of healthcare providers. Using in-network providers can often result in lower out-of-pocket costs.
Policy duration: Select a policy duration that aligns with the length of your visit. Plans can range from a few days to several months.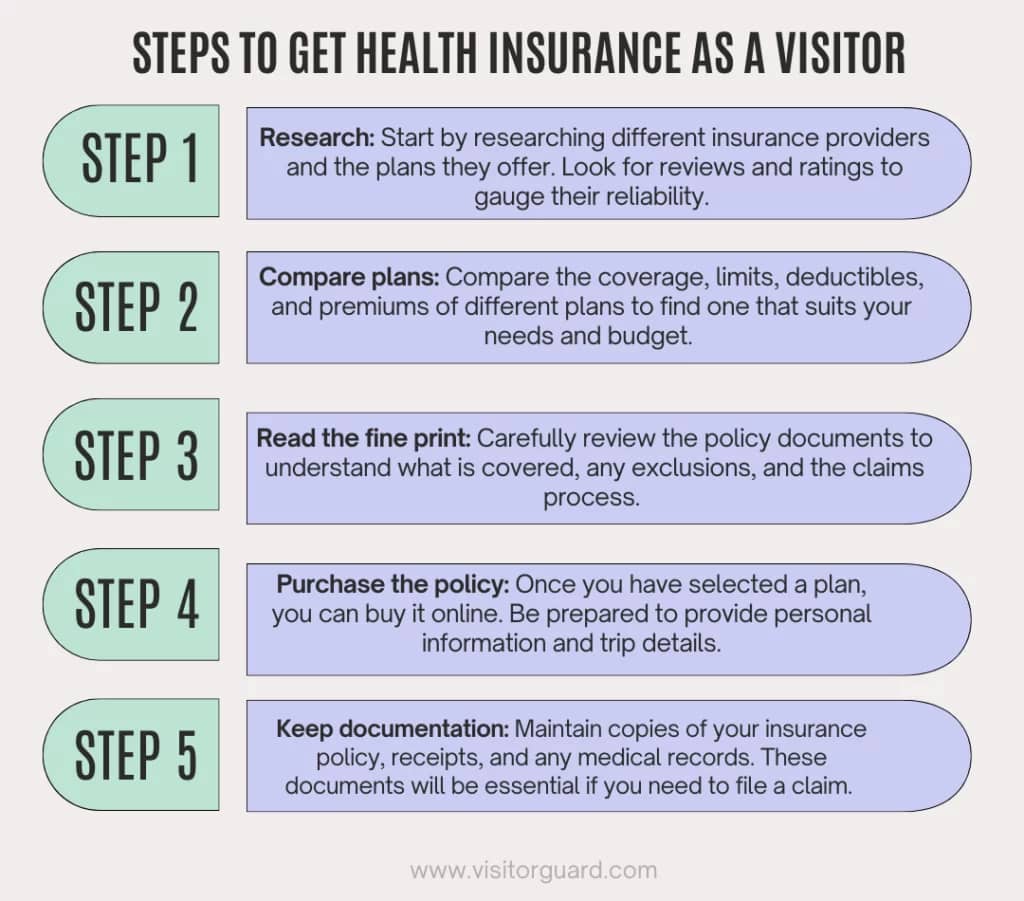 FAQs
1. Can I buy health insurance as a visitor after coming to the US?
Yes, you can, but it is not recommended. It is wise to buy a plan before you start the trip. Typically, the coverage can begin as early as the next day or the effective date of coverage, so if you buy a plan after coming to the US, you will not be covered since the beginning of the trip in the event something was to happen during the beginning of the trip.
2. Is health insurance required for a US tourist visa?
No, health insurance is not a visa requirement, but it is advisable to have coverage during your visit as medical costs in the US are exceedingly high.
3. Can I get coverage for pre-existing conditions as a visitor?
Though pre-existing conditions are not covered under any of the plans, some insurance plans offer coverage for acute onset of pre-existing conditions. Review the policy details to understand the coverage for acute onset of pre-existing conditions.
4. What should I do if I need medical assistance while visiting the US?
Contact your insurance provider as soon as possible. They will guide you through the process and provide information on network healthcare providers. Your ID card will have the contact information listed.
5. Can I extend my visitor insurance if my trip is extended?
Extensions are possible if the policy you have chosen is renewable. A new application will have to be completed if the policy has already expired or if the policy is a non-renewable policy. Contact your insurance provider to inquire about policy extensions.
Conclusion
Visitor health insurance in the US is a wise investment for anyone planning a trip to this diverse and dynamic country. It provides financial protection, access to quality care, and peace of mind during your visit. By understanding your options, comparing plans, and choosing the right coverage, you can enjoy your trip with confidence, knowing that you are prepared for unexpected medical situations.
---
---