How Much Does Visitor Health Insurance USA Cost?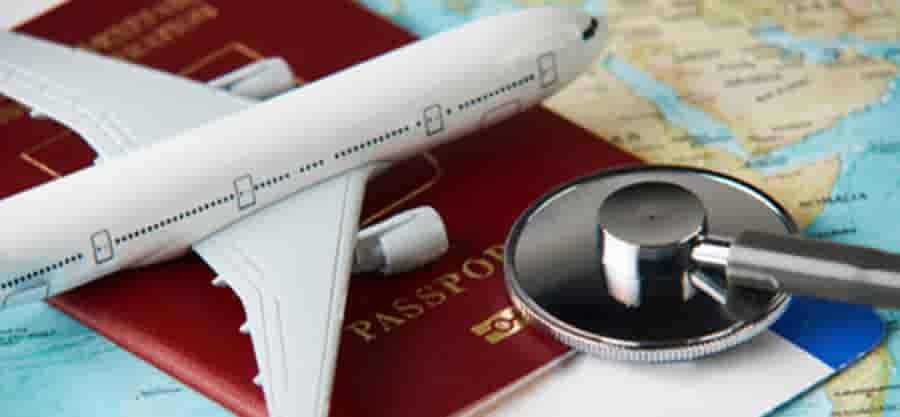 How Much Does Visitor Health Insurance Cost?
When you're looking into how much does visitor health insurance cost USA, it's a good idea to break it down to a day-by-day basis. When you look at it this way, visitor health insurance is very cheap; you could be looking at paying as little as a dollar a day, depending on your age and coverage extent. A full week of minimum coverage could cost less than $5. However, if you want the best option available, you could pay more than $100 per week. 
Here is the Visitor Health Insurance USA Cost
Visitor Age

Plan Medical Limit

Premium*

55-59

Inbound USA 
USD 50,000 maximum

$52 per month

55-59

Inbound USA 
USD 100,000 maximum

$57 per month

55-59

Safe Travel Comprehensive 
$50,000 maximum

 

$110 per month

55-59

Safe Travel Comprehensive 
$100,000 maximum

 

$136 per month
*Estimated Premiums
Here's a sample premium for a 25-year-old with a $50,000 limit and a $250 deductible: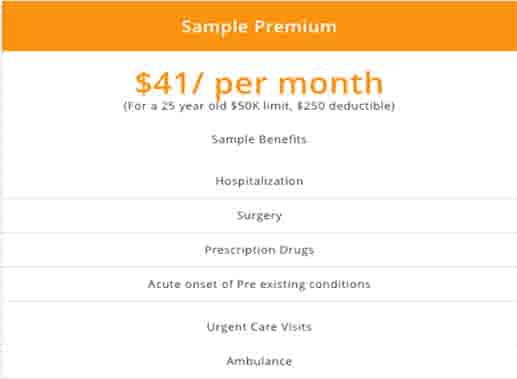 Get Quote Now
Travel Health Insurance Cost to USA 
If you know anything about the U.S. healthcare industry, you may be aware of the rising costs of medical care. Without adequate travel insurance coverage, medical issues can lead to serious financial problems. There's no need to put yourself and your family at risk. In most instances, travel health insurance will take care of basic healthcare costs. When you sign up for travel insurance, you are securing coverage for countless health benefits, including hospitalization, doctor visits, prescription drugs, tests, x-rays, and even the acute onset of pre-existing conditions (sudden and unexpected recurrence or flare-up of a previously diagnosed condition). 
So How Much Does Visitor Insurance Cost? It depends on several factors. In this article, we will break down the cost of coverage, from premiums and deductibles to policy maximums and treatment payments.
In general, visitor health insurance will cost less if you:
Choose a lower maximum limit ($25,000, for example). As you increase your maximum limit for coverage, your daily or monthly rate will increase.
Choose a higher deductible. When you choose to pay more upfront for health costs, it guarantees a certain amount to healthcare providers. Plus, it means that the insurance company won't have to chip in unless the owed amount is more than the deductible. In turn, your premiums will be lower.
Are 30 years of age or younger. Generally, young people are healthier, and as a result, are far less likely to get ill, meaning there's less of a risk for insurance companies to cover.
Take a shorter trip. The shorter the trip, the less you will have to pay.
The premium depends on your age, the coverage duration, medical maximum, deductible amount, and plan type. When you choose low maximum coverage, your monthly or weekly premium will be much less than it would be if you wanted a limit of $100,000 or more. In the case of a serious medical emergency, $25,000 may only get you so far. You could end up owing tens of thousands of dollars should you fall ill or suffer a major injury that requires surgery.
When you choose a higher deductible, it will lower your premium. This amount is usually higher than the deductible required in comprehensive health plans. For a fixed/limited benefit plan, in the event of a surgery, you would pay a deductible, as well as any difference between the covered maximum and the actual cost. In the case of surgery, you would pay a high deductible, as well as any difference between the covered maximum and the actual cost.
Here's a look at how deductibles and premiums may vary according to your selections.

The table shows possible options for a Visitors Care fixed benefit plan. As you can see, higher deductibles equate to lower premium amounts. Also, the higher the maximum coverage limit, the higher the premium. Visitors Care offers a $40 max for physician visits and $200 max for a hospital emergency room visit.
If you are young, healthy, and traveling for just a short period of time, the cost savings might make sense for you—so long as you are partaking in low-risk travel. If you are older and have had any serious medical issues in the past, such plan options might put you at physical and financial risk. Just be sure to keep the maximum coverage limits in mind when deciding what the best option for you is.
If you can afford to pay a higher premium for more comprehensive coverage, consider Atlas America or Patriot America Plus. Both plans provide excellent visitors insurance in the USA. For individuals under the age of 30, Atlas America starts as low as $0.77 a day, or roughly $5 a week. Of course, these numbers coincide with less coverage. Your deductible would be $5,000 for a major medical expense, with a maximum coverage limit of $50,000. As a traveler of 80 or older, the maximum premium would amount to around $13 per day. 
How Can I Get Health Insurance for my Parents?

If your family is coming to visit you soon, it's a smart idea to investigate how much does travel insurance cost and how to get it. If you are looking for visitor health insurance for your parents, consider Patriot America Plus. With maximums of up to $500,000, low deductible options, and an expansive network of available health providers, it's a great choice for those 50 years of age or older. It even offers coverage for acute onset of non-chronic pre-existing health conditions for those under 70.
The costs for your parents' insurance plans can vary, depending on how much coverage you think they'll need for their visit. If they decide to go with Patriot America Plus, for example, their maximum limits will range anywhere from $50,000 to $1,000,000, and their deductible will be between $0 and $2,500 depending on the plan you choose. If you decide to get your parents a deductible of $0 and a maximum limit of $50,000, then your premium will come out to around $6 (depending on the age) per day that they visit.
Purchasing travel insurance for your parents has never been easier. Medical exams are not typically required, and the paperwork is limited. Just be sure to have all personal information on hand when filling out an online application. Medical information is typically not needed for completing the application, but it is good practice to carry all your latest records while traveling.
If you need J1 Visa Health Insurance, we'll help you find the perfect plan. And if your parents need visitor health insurance, call us at 804-325-1385.
---
---