Top 14 Cities You Have to See this Fall 2019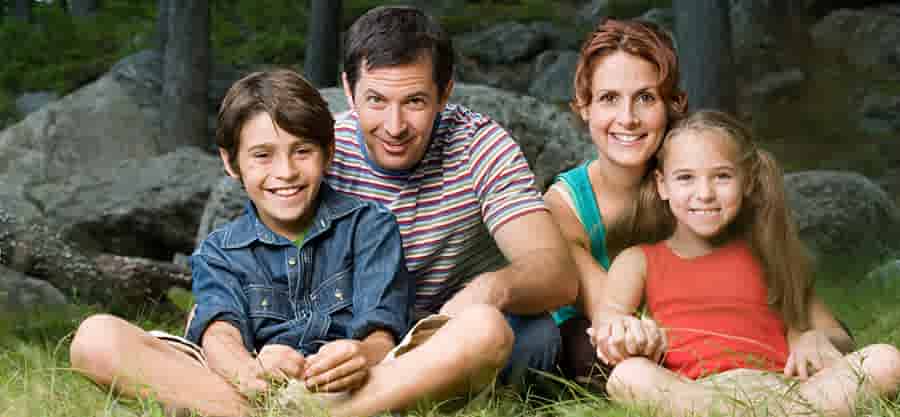 Maybe it's the crisp air or the magic of the changing leaves, but whatever it is, the fall season brings a sense of excitement to the U.S. All across the country, destinations embrace the change in seasons with leaf peeing tours and fall festivals.  
October through November is the ultimate time for your family to visit during your stay in the U.S. to experience a beautiful fall vacation. They'll adore the cozy vibes and rich fall colors, but make sure they get visitors' insurance to cover any accidents. When you take advantage of visitors health insurance, you won't have to worry about any incidentals, from injuries to illness, as emergencies are covered. With visitor's health insurance taken care of, you can spend less time thinking about any unforeseen hiccups and focus more on giving them the grand tour of these amazing cities that you must experience this autumn. See how many cities you can mark off this list during your family's visit to make it the best fall vacation!  
1. Asheville, North Carolina 
Good luck finding a better showcase of fall foliage than along the Blue Ridge Parkway. Relish the colorful backdrop of leaves that surround the winding mountain roads on your way to Asheville. During your road trip, stop at the Orchard at Altapass—55 miles north of the city—and pick some apples at the 100+-year-old apple orchard. Once you arrive in Asheville, make your way to the famous Biltmore Estate, which is absolutely lovely during the autumn season, and it's on our list of the best places to visit in the fall. Explore the grounds on a horseback riding adventure or stay on your own two feet and explore the gardens filled with thousands of jewel-toned chrysanthemums.  
2. Gatlinburg, Tennessee 
Don't miss the vibrant colors in the surrounding Great Smoky Mountains. The display of fall foliage is beautifully dramatic in the Smokies, where yellow birch and mountain maples are some of the first leaves to begin changing color. Go for a scenic drive along Clingmans Dome Road and indulge in a front-row view of the autumnal shades. While you're in town, mark your calendar for the Smoky Mountain Harvest Festival Tunes and Tales, which showcases Appalachian history through music and stories. Ober Gatlinburg is another much-anticipated fall attraction—chow down on some schnitzel and cheers to the change in seasons.  
3. Taos, New Mexico
We can't think of a more magical way to view the kaleidoscope of colors than from the basket of a hot air balloon. Bring your family to the Mountain Balloon Rally, which takes place in late October. Prefer to stay on solid ground? Cruise along one of the many local roads surrounded by brilliant mountainsides. The Enchanted Circle Scenic Byway is perhaps one of the most coveted scenic drives, where you'll make your way through orange- and red-laden forests, valleys, and mountains. They don't call New Mexico The Land of Enchantment for nothin'!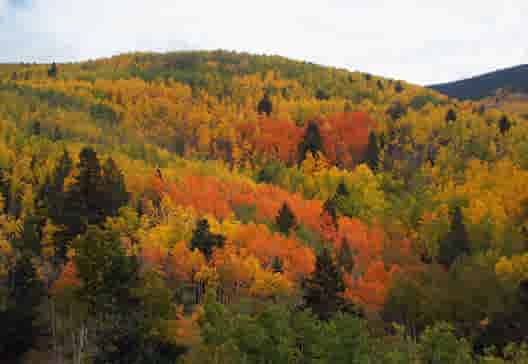 4. Whitefish, Montana
If you only think of Glacier National Park covered in snow, then you're doing it all wrong. Before the onset of winter, this forested region bursts into life with the golden shades of autumn. Bring your clan along for this fall vacation adventure in Whitefish, where you'll find yourselves surrounded by a vibrant color palette of red, orange, and yellow. Buckle up and ride on Going-to-the-Sun Road, where you may see mountain goats and bighorn sheep in addition to the foliage. Or hit the trails by foot or horseback—scenic Lionhead Mountain Trail is only a mile outside of downtown.  
5. Berkshires, Massachusetts  
Round up your family and venture to Mount Greylock, the highest point in Massachusetts. Here you can look out over the treetops and see the vivid autumn colors for over 90 miles on a clear day. Have you ever seen a more magnificent display of fall foliage? After viewing the region from above, explore The Berkshires further. Soak in all the rich colors and make a stop at Hilltop Orchard & Furnace Brook Winery. This winery invites you to hike around the property, pick apples, and of course, sip on local wine!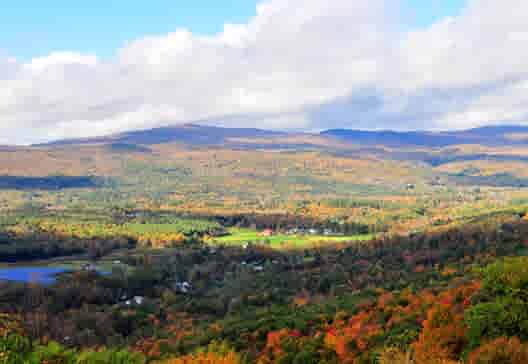 6. Durango, Colorado   
Sit back and enjoy the show when you ride the Narrow Gauge Railroad between Durango and Silverton. You'll chug along the railways and wind past the scenic splendor of the San Juan Byway. But if you'd rather be in the driver's seat, zip around the Million Dollar Highway and soak in all those million-dollar views. For the more adventurous in your crew, take to the skies in a helicopter tour and leaf peep from above as you soar over the colorful treetops of western Colorado. No matter if you admire the foliage from the seat of a train, car, or helicopter, Durango promises a fantastic display.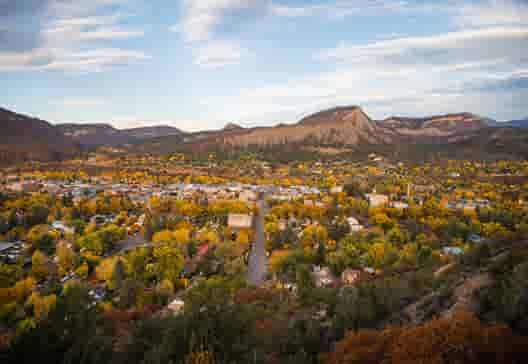 7. Stowe, Vermont   
When it comes to autumn colors, Mother Nature has outdone herself in Stowe. See what this region has to offer when you bike along the Stowe Recreation Path or drive on the scenic Green Mountain Byway. The colors are unbeatable! For a bit more adventure, test your balance on a Stand-Up paddleboard and float along the Waterbury Reservoir, surrounded by red and golden shades. Want something a little more extreme? Add some adrenaline to the mix with a ZipTour Adventure, where you can glide through the foliage, 180 feet in the air. Thanks to your visitor's insurance, you won't have a worry in the world! 
8. Eureka Springs, Arkansas 
Looking for some of the finest fall foliage? You'll feel like you've struck gold when you see what Eureka Springs has in store. This lovely town in the Ozark Mountain foothills serves up charming displays of color. Get behind the wheel and make your way along Sycamore District and Glade Top Trail to see the bright-colored leaves in all their glory. For an especially spectacular view, head to Hawksbill Cray, where the leaves have really outdone themselves. Drive, hike, or bike, but whatever you do, make sure you experience the change of seasons in this part of Arkansas.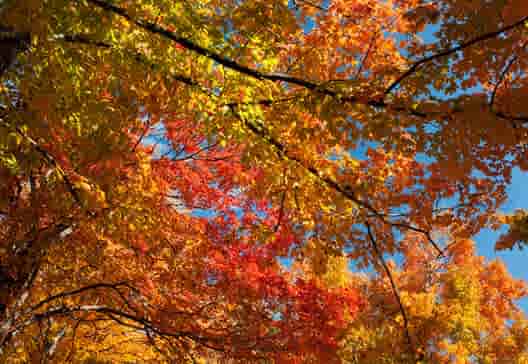 9. Shakopee, Minnesota 
You and your family will fall for the fall foliage in Shakopee. This part of Minnesota is home to some of the most enchanting autumn colors. Don't miss Sever's Fall Festival, one of the most anticipated events of the year. Bring your crew and experience the fall fun, from pumpkin sculptures to corn mazes. This festival goes from September and into November, making it a great place to visit in November in the USA. What's more, Ithaca State Park is just an hour away, where you'll find even more brilliants displays of nature. With your visitor's insurance handy, you can take on all the adventures!  
10. The Poconos, Pennsylvania 
When it comes to fall colors, The Poconos has got it going on. This lovely East Coast region is the place to be when it comes to leaf–peeping. To get the in the spirit of the season, bring your family to The Great Pocono Pumpkin Festival, and pick pumpkins, go for hayrides, and even witness the gourd grenade activity! For more fall-inspired fun, grab a seat on the chairlift and make your way through the tree canopies on Shawnee Mountain. Or simply sit back and relax as you drive along Route 507 around Lake Wallenpaupack—you won't be disappointed.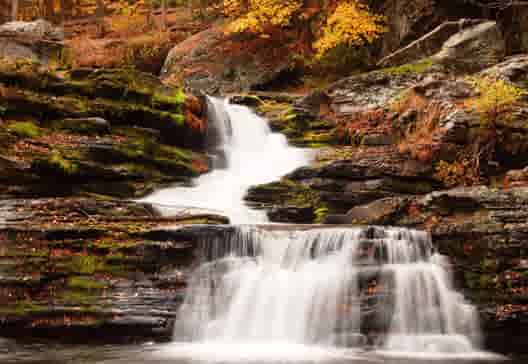 11.  Staten Island, New York 
New York City might be gearing up for the winter holidays, but Staten Island is busy embracing the magic of the fall season. This borough welcomes you and your family to pick pumpkins and join the hayrides at Decker Farm. After all, nothing says fall quite like hay mazes and hard cider! Continue with the autumn traditions at the Fall Festival at the Mount, which is the island's largest pumpkin patch. Whatever you do, don't leave without making your very own scarecrow!
12. Laconia, New Hampshire 
New England becomes a golden paradise come autumn, and what's a better place to experience the spectrum of colors than Laconia? This New Hampshire town sure does it up this time of year. The New Hampshire Pumpkin Festival is a fall staple, where you can catch pumpkin bowling, join the Zombie Walk, and knock back a pint or two in the Pumpkin Festival Beer Garden. Make sure your carved pumpkin has a spot on the famous tower of jack-o-lanterns, too.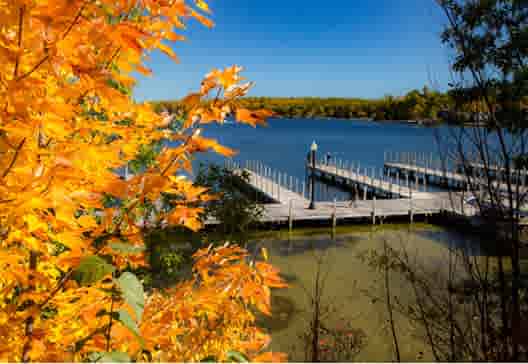 13. Dallas, Texas 
Texas may not be the first place that comes to mind when you consider autumn, but you'll be pleasantly surprised when you set your sights on Dallas. Get in a fall state of mind when you visit Autumn at the Arboretum, where you'll be greeted by a display of more than 90,000 pumpkins, squash, and gourds! For more festivities, don't miss the famous Dallas State Fair, which arrives in the city each autumn, complete with carnival rides, livestock shows, and concerts.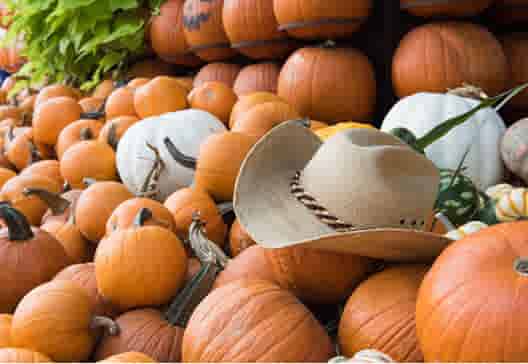 14. Wilmington, Delaware 
All aboard the Wilmington & Western Railroad Autumn Leaf Special! This train chugs along the railways, showcasing Delaware's gorgeous autumnal colors. Head to Mount Cuba Picnic Grove or opt for a longer journey to the darling town of Hockessin. Go for a Sunday drive on the Brandywine Valley National Scenic Byway or if you're feeling thirsty, venture on the local Delaware Beer, Wine, & Spirits Trail. With a local libation in hand, you'll feel compelled to toast to the treasures of autumn in Wilmington.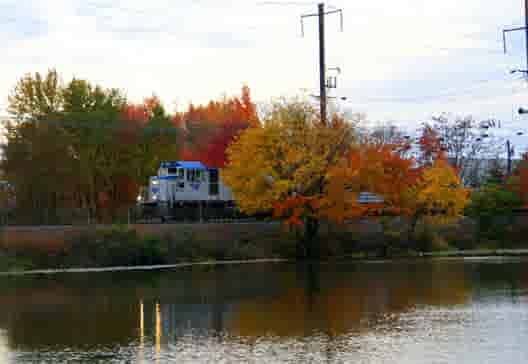 Invite your family to experience the autumn allure in the U.S. If your family is visiting from abroad, consider visitors insurance. With all the exciting adventures and excursions you have planned, it's good to have coverage. Dive into all the fun fall without a care in the world! 
Coverage plans vary, but commonly covered are:  
Medically necessary procedures and appointments related to injuries and illnesses  
Any accidents that occur  
Medical evacuations and return of remains 
Go to Visitor Guard® for all your visitors insurance needs and to get the most out of your fall vacation.  
---
---